You can apply the brakes right now if you have been cruising the Internet looking for a top-notch Miami, Florida backyard landscape design company. Anderson Landscaping is firmly established as the leading backyard landscape design resource in this area. We have been beautifying neighborhoods for many years, and we continually grow through the referrals that we receive from satisfied clients.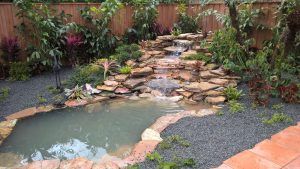 There are numerous fantastic benefits that go along with living in southeast Florida, and the weather is probably at the top of the list. In many parts of the country, the backyard is irrelevant during a large portion of the year. Here, you can enjoy every square foot of your yard all year around.
When you engage us to complete a Miami, Florida backyard landscape design assignment, we will work closely with you to gain an understanding of your tastes. We will examine the size and layout of your yard, and we will make suggestions. After the planning process has been completed, we will actualize the plan and transform your backyard in amazing ways.
Waterfalls and Backyard Water Features for Miami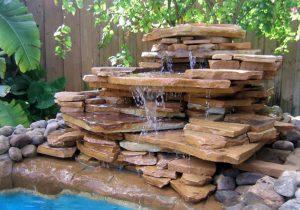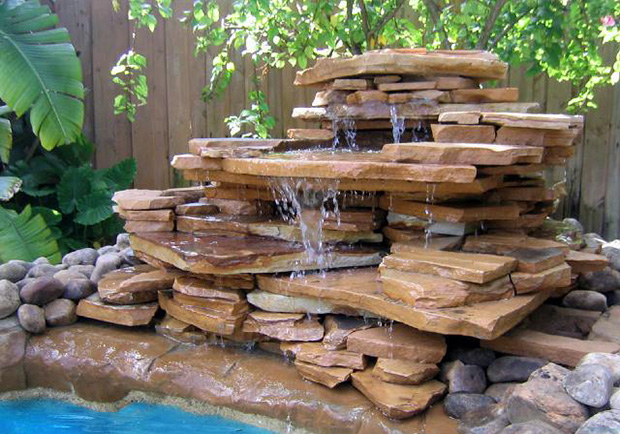 Because of the fact that we have a long swimming season in our area, a very significant percentage of homeowners have pools in their backyards. The pool area provides an outstanding opportunity for the addition of design features that can improve the space considerably.
We have all been to resorts that have beautiful, soothing waterfalls feeding into the pool along with other water features. You can follow that model and engage us to design and install waterfalls and/or backyard water features to enhance your Miami, Florida home. In our gallery on this website, we have examples of waterfalls and backyard water features, and we encourage you to take a look at them.
When you see the quality of the materials and the workmanship, you may assume that our waterfalls and backyard water features are extremely expensive. In fact, they are surprisingly affordable, and an investment in this type of home improvement boomerangs right back to you when the value of your property skyrockets.
Backyard Landscape Design Specialists
If you would like to discuss a Miami, Florida backyard landscape design with a knowledgeable member of our team, we are standing by to provide assistance. You can get in touch with us by phone at 305-978-2050, and there is also a contact form on this website that you can use to send us a message.