Hardscaping alludes to the expansion of enormous structure blocks around the house for expanding stylish allure. Hardscaping normally incorporates holding walls, porch pavers, fire pits, open-air kitchens, pathways, driveways, walls, decks, furniture, pergolas, gazebos, steps, water channels thus on. Hardscape needs fine specifying for which you ought to enlist specialists instead of doing it without anyone else's help. Hardscape establishment is simple and anybody can make it happen. However, if it isn't introduced as expected, it won't keep going for quite a while.
Let us look at the key benefits of adding hardscapes:
Safeguard Your Property and No Dirt Disintegration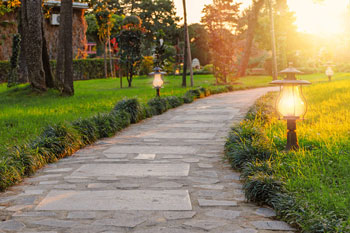 In the event of disintegration, hardscaped regions, for example, paver or stone surface make certain to watch out for the ground and its dirt. Specialists propose that having a hardscape around the house can likewise assume a significant part in forestalling water logging.
Hardscaping Adds Aspects
Having a very much laid hardscape will guarantee you can partake in your yard without limit. Aside from that, it will likewise contribute towards set-down edges and delightful walkways. Many people lean toward adding yard walls, pergolas, fences and stone limits. Not exclusively will these upgrade the general look yet additionally increment security.
Hardscaping Demonstrates Water-Proficient
Hardscaping can be powerful in areas of the dry season. Hardscaping can likewise assist with forestalling water wastage. This is typical because you would require a ton of water to keep up with the plants. Yet, assuming you have stone designs, water will not be needed.
Our organization, Anderson Landscaping, is the main project worker for hardscapes in Miami, Florida. We are awesome at how we help for various reasons, and it begins at the top. Tod E. Anderson is our proprietor and pioneer, and his accreditations are genuinely flawless. You can have confidence that the hardscapes holders that get from us are unprecedented show-stoppers. You can contact us at 305-978-2050 if you are located around Palmetto Bay, Kendall, Miami, Coral Gables, Key Biscayne, and Pinecrest areas.