Do you have a huge outdoor space? Then, you must consider yourself lucky, given the limited space we face these days in the city. But that also means that you have to take care of your outdoor space so that you utilize it well. What you can do with a huge area like this is divided into several landscape elements and then enjoy each in your own way. For instance, you could have alone, a backyard pool, or even a Koi ponds. But you also need to get this installed properly. That is why we, at Anderson Landscaping, can be the right choice for your Kai ponds installation. We are an established and reliable company which has been in this field for a long time. We can provide you with landscape design and installation services along with waterfalls, water features, outdoor lighting, and so on. We are known for our high-quality products and highly innovative designs. So, if you belong to areas such as, Palmetto Bay, Pinecrest, Kendall, Miami, Key Biscayne, or Coral Gables, then you can rely on us.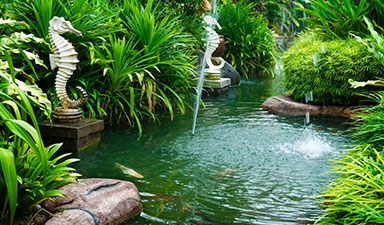 Here, we have put together a few reasons why you should always hire a professional for Koi ponds installation. Take a look.
You must understand that a professional has received formal training and knowledge when it comes to installation of these kinds of ponds. Their lesson and experience makes them more capable of providing you with a remarkable installation service which will be lacking in amateurs. That is why you should always go for a professional if you want to sound service.
An amateur will not be able to do the job perfectly for which you might have to hire someone again. And if the pond is damaged, you might have to get it replaced altogether. These unnecessary expenses can be handled better when you hire a professional from the beginning.
So, if you're thinking of choosing us, contact us today.