Have you recently shifted to a new place? Do you want to uplift the look of your backyard? Then let us, at Anderson Landscaping, help you out with your dreams. We have been helping our customers expand their livable space as they want it for over 50 years now. When it comes to landscape design, we have the best team of highly experienced, skilled, and knowledgeable architects and designers who can pour their years of expertise into turning your gardens and landscapes into impeccable conditions. The people of Palmetto Bay, Key Biscayne, Miami, Coconut Grove, Miami Beach, Pinecrest trust us because we are known to complete any project on time and well within budget and as per the design given by our clients.
Below we have mentioned a few basic elements of landscape design composition. Take a look.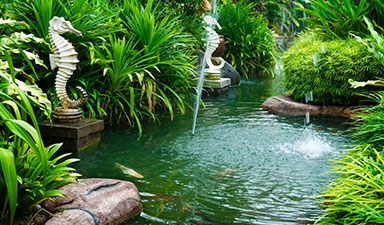 Getting your lines right in any kind of landscape design is very important. They might be horizontal, vertical, diagonal, or even curved; these lines accentuate any object, draw attention to a focal point, or even control the movement of a passer-by. Lines can either be perceived or actual.
There is various kind of objects that belong to this category which will give a flowing and natural feel to any kind of landscape. Plants, fire pits, or any kind of water feature that when either grouped or arranged in a sequence will uplift a static value of the entire composition.
The texture is something that enriches the visual quality of any landscape composition. They can be coarse, medium, or fine. Different elements have different textures and having contrasting textures in your landscape will play an important role in attracting everyone's attention.
So, if you are planning to get a professional company to design the landscape area of your residential or office building, you can get in touch with us at 305- 978- 2050.