The installation of various designs in your gardens, such as fences, paves, waterfalls, landscape lighting, and other stonework is referred to as "landscape installation." The climate, user requirements, and specific features of the area all play a role in landscape installation. Professional landscape designers will design your garden to perfection and have original concepts.
Let us look at the benefits of landscape installation:
It Increases Your Home's Value

 
The first advantage of landscaping is that it can increase your home's value. Potential buyers are more likely to view your property as a place where they could live comfortably if they see a yard that has been well-kept and contains a variety of plants. This is because they will imagine themselves spending every day outside in this peaceful setting.
Improves Energy Efficiency

 
By removing the need for artificial lighting and heating/cooling systems, landscaping your property reduces energy consumption. For instance, you won't need as much outdoor lighting at night if your yard is well-lit and easy to navigate at night. As a result, less electricity will be used at night, when demand is highest. In a similar vein, landscaped areas typically require less maintenance than untended ones, resulting in lower labor costs and lower carbon emissions from vehicles used to transport workers to sites.
It Helps Reduce Air Pollution

 
Shade reduces air temperature and contributes to the reduction of air pollution by reducing the rate of evaporation from lakes and rivers, which in turn reduces the formation of ozone in urban areas. Before it enters waterways as runoff or as sediment deposits along shorelines after flooding, the gardening process also removes particulate matter from the soil.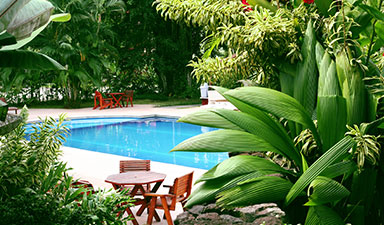 Hardscape and water feature installations, as well as residential and commercial installations, are all performed by Anderson Landscaping. We will give your new and existing landscape a professional touch. We are proud to use the most effective methods for installation, upkeep, and care. Contact us if you reside around Miami, Coconut Grove, Palmetto Bay, Pinecrest, Kendall, and Key Biscayne areas.