Anderson Landscaping is a recommended contractor for landscape installation in Coconut Grove, Coral Gables, Cutler Bay, Miami Beach, Palmetto Bay and Pinecrest. They are a family owned and run business and they offer both residential can commercial landscape installation services. They can also help you with landscape design. They have transformed many outdoor spaces in greater Miami and South Florida and they can do the same for you.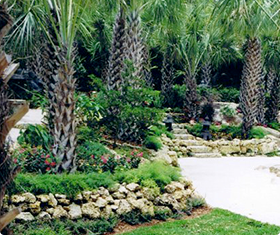 Once you have a landscape design blueprint, the actual installation process can begin. The installer will analyze and evaluate the master plan and determine what materials and appropriate softscape and hardscape elements are required for the install. Once the master plan has been studied the physical work can begin.
This involves physical work of digging, planting, building and construction. A landscape crew will install pants, plant grass, install irrigations, build rock formations, water features, retaining walls, walkways, patios, outdoor entertainment areas, lay down paving, install lighting and other required elements and structures.
Landscape installation is the process that transforms your outdoor spaces and brings the collective vision to life. You can have a beautiful design on paper, but it is the installers who make the blue print a reality. The installer faces many challenges during the installation process. It is important that the installer has knowledge of local conditions such as plants, climate, soil conditions and so on. Often adjustments need t be made to grade and soil amendments may be required.
When it comes to landscape design and installation you want to deal with a contractor that has good track record and appropriate referrals and reviews. Your landscape transformation and expensive and complicated project. It is a project for a professional designer and installer. Anderson Landscaping is a professional landscaper and can help you with landscape installation in South Florida.