Are you thinking of building a new house or do you want to redesign your old house? Regardless of what kind of a house you have, it is not enough to just work on the interior of the house but you have to also make sure that the exterior part of the house is also equally appealing. You should design your landscape in a new manner. Right from adding a new driveway or pathway to investing in a water feature or growing a garden, there are several ideas for a beautiful outdoor. We, at Anderson Landscaping, can be the right choice for you. We can offer you amazing landscape design and landscape installation services regardless of the kind of outdoor you plan to have. We are an experienced and reputed company with highly skilled, knowledgeable, and tasteful individuals who can help you with installing different kinds of landscaping elements. We are known for our efficiency, attention to detail, and reasonable pricing. So, if you are from areas such as Coconut Grove, Coral Gables, Cutler Bay, Miami Beach, Palmetto Bay, and Pinecrest, then you can rely on us.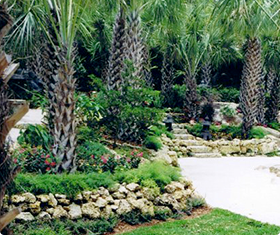 Here, we have put together a few essential questions to ask a company before choosing them for installing your landscape. Take a look. 
Do you have immense knowledge about the different landscape elements?
Whether you want to install a water feature or a few planter boxes, the company should have a team with sufficient knowledge about these things along with an idea on how to maintain them for years so that you can continue to enjoy your beautiful landscape. Therefore, you must ask them about their knowledge.
Do you have experience in both commercial and residential landscaping?
Commercial landscaping elements are a little different from the residential landscaping elements. Therefore, if the company is only experienced in commercial landscapes, it will not be of much help you. So, you need to ask and make sure that they can take care of both commercial and residential landscapes.
So, after asking such questions, if you think we can be the right choice for you, quickly get in touch with us.