One of the most modern and sophisticated forms of decoration is landscape paver installation that you can get done in your garden. We, at Anderson Landscaping, bring to you our expert services in this area. We have a team of professionals who not only get the job done in the least amount of time but also make sure that the work done is absolutely impeccable. For this purpose, we blend a personal touch along with professionalism. Customer satisfaction is of paramount importance to us. This helps us to actualize the goals of our customers. For this reason, we take into account the visions of our customers regarding the decorations. This particular feature of our company has allowed our customers to place their trust in us. We are a highly popular firm, serving customers in and around the areas of Miami, Palmetto Bay, Kendall, Coral Gables, Pinecrest, and Key Biscayne.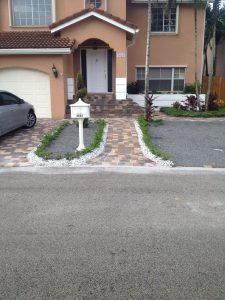 Here, we have made a list of 3 points that you should keep in mind when getting this sort of a job done in your home. Take a look.
The materials used to build the paths in your gardens or lawns are available in various levels of quality. You need to make sure that the materials used are of good quality. Even though this might cost you more in the present, it will allow you to save on substantial costs in the future on repairs and rebuilding.
The type of design you choose is something that will determine the appearance of your home. So go through catalogs and online design websites to get a better idea of the kind of patterns that will suit your space.
For any kind of construction work that you choose to have done in your home, you must chalk out a draft of the costs involved. This will not only allow you to save the maximum amount possible but will also prevent you from going over your budget.
So, if you feel that your home deserves to be decorated beautifully, give us a call at 305-978-2050, without any delay.