Do you love swimming? But due to our busy schedule and a career to chase, do you not get enough time to pursue this hobby? Welcome are nowadays you can also have a pool at home which will give you the perfect opportunity to carry on swimming even in your busy life. The advantage of having a landscaped pool in your home outdoor is that you can enjoy swimming whenever you want to. This can also be a great attraction for your guests if you want to have an outdoor party at home. We, Anderson Landscaping, can be the right solution for you. We can build the perfect landscaping pool for you. We are an experienced and reliable company which can provide you with a wide range of services. Right from landscape installation and design to even water features and landscape lighting, and so on, we can help you with various services. We are known for our sense of professionalism, efficiency, and utmost commitment and dedication towards all our clients. So, if you are located in areas like Miami, Coral Gables, Palmetto Bay, Key Biscayne, Pinecrest, or Kendall, then you can opt for us.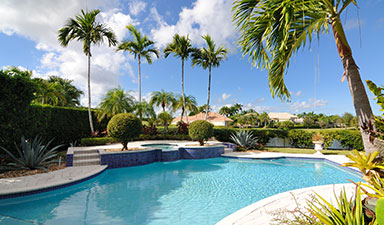 Here, we have put together a few things to check if you want to build a landscape pool. Take a look.
First of all, you have to decide on how big a pool you want. For this, you have to decide on the size in accordance with the area that you have in your landscape zone. Take the right measurements and then go ahead. Or else, you will have to redo things which will be quite inconvenient.
Next, you have to choose the design of the pool. This includes choosing the right shape and material for the pool. That is why you have to do a little bit of research on your own on the sort of materials you want and the shape you desire. Any professional company offering such landscaping pools will be able to help you with these suggestions.
So, if you are thinking of choosing us, contact us today.