If your professional landscaping design in Coral Gables, Cutler Bay, Miami, Miami Beach, Palmetto Bay or Pinecrest, then Anderson Landscaping can help. They are a recommended source for landscaping and they know how to transform ordinary outdoor spaces into inviting spaces. Just look at some before and after photos. A good landscaper knows how to combine nature, architecture and culture into something that is functional and pleasing to eye.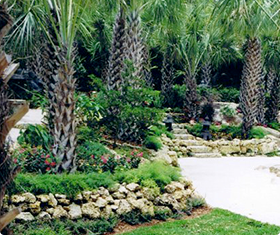 Landscaping design begins with a consultation and site inspection. You exchange ideas and the landscaper will tell you want can work and what wont. The landscaper will consider various things such as the size of your outdoor spaces, accessibility, soil conditions, weather conditions, existing architecture as well your own culture and preferences. Landscaping design is about creating a blue print that will help and installer to create the type of outdoor space that you want. It is the plan an installer will work from.
A landscape design can include many elements, such as grass, shrubs, plants, walkways, water features, entertainment areas, patios, rock formations, viewpoints, irrigation, lighting and more. Landscaping design also deals with important elements such as flow, proportion, contrast and focal points.
A good plan is important. This applies to most things in life and gardening and landscaping are no exceptions. However a good plan must be executed properly. This is whether the other side of the coin comes in. Landscape installation. Fortunately Anderson can help you with both landscaping design and installation.
Improving your landscape makes your home more interesting and inviting. It is also a great way to improve the value of your property. It starts with professional landscaping design and finishes with professional landscaping installation.
Anderson Landscaping can help you with professional landscaping design and installation in Coral Gables, Cutler Bay, Miami, Miami Beach, Palmetto Bay or Pinecrest.