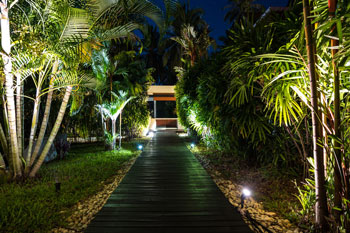 Your home is your haven–it deserves to look great! But not every Pinecrest, FL haven is complete without outdoor landscape lighting. As an essential component of backyard landscape design, outdoor landscape lighting, highlights the unique features of your space, leaving your landscape warm, cozy, and illuminated 24 hours a day.
At Anderson Landscaping, we proudly help homeowners improve the aesthetic of their outdoor space with landscape lighting for Pinecrest, FL and the surrounding areas. Whether you are looking to enhance the aesthetic of your outdoor gazebo, place LED wayfinding lights on your stone paths, or deter crime with strategically placed landscape lights, we go above and beyond to meet your needs. Get in touch with us today to get a quote on outdoor landscape lighting for Pinecrest, FL and the surrounding areas!
Outdoor Landscape Lighting in Pinecrest, FL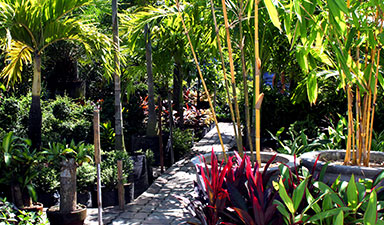 All backyard landscape designs need landscape lighting features. By utilizing strategically placed outdoor landscape lighting we beautify your home and illuminate your space so you can enjoy your outdoor area during all hours of the day. With several different LED lighting options to choose from, we help create a cozy and inviting space with landscape lighting:
Here is how outdoor landscape lighting for your Pinecrest, FL home can enhance your space:
Increased Property Value– Landscape lighting is a crucial aesthetic element that can increase your home's property value.
Enhanced Safety– Not only do landscape lighting features add beauty to your space, but they can increase the safety and security of your property.
Outdoor Living– Outdoor landscape lighting expands your liveable space so you can enjoy your landscape any time of the day.
Highlights Landscape– Landscape lighting increases the ambiance of your landscape and highlights special features, such as landscape decor.
Backyard Landscape Design in Pinecrest
Pinecrest, Florida is an affluent suburban village in the Miami-Dade County area. Known as a great place to live and raise a family, this luxurious community combines all the appeals of suburban living with the beauty of nature. With plenty of modern conveniences offered to residents and guests, it is no wonder why Pinecrest, Florida is known as one of the best places to live in the state.
At Anderson Landscaping, we transform your outdoor space into a wonderland with backyard landscape design for Pinecrest, FL and the surrounding areas. By working directly with you to turn your dreams into a reality, we help you maximize your available space and improve the aesthetic of your home with attractive backyard landscape designs that meet your needs and surpass your expectations. Contact us today to chat with our team about transforming your landscape into an exotic oasis!