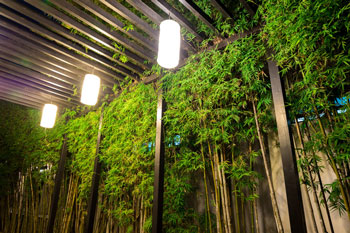 Outdoor landscape lighting for your Coral Gables home is not just for looks! Landscape lights can also be used to improve the safety and security of your property. By offering a wayfinding function you, your family, and your guests can find their way at night with landscape lights, which ensures your safety. Landscape lights can also illuminate your home, which can deter intruders and reduce the likelihood of break-ins.
Whatever your reason for installing landscape lighting, we meet your requirements with attractive and functional landscape lighting for Coral Gables, FL and the surrounding areas. Carefully crafting each aspect of your landscape, our landscape designers add lighting features tastefully to contribute to your landscape, not take away from it. Get in touch with our team today to get a quote on outdoor landscape lighting in Coral Gables, FL or the surrounding areas.
Landscape Lighting in Coral Gables, Florida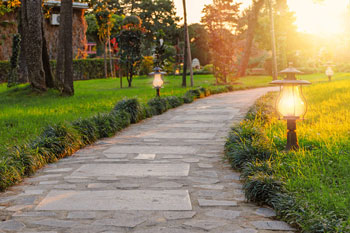 There is no better way to illuminate your space and add beauty to your home than installing outdoor landscape lighting. Ideal for nearly any landscape, landscape lighting can be customized to fit your property.
Our landscape designers help you mix and match landscape lighting features to craft your desired look.
Here are some of the many outdoor landscape lighting options we offer:
Wall Wash Lights
Underwater Lights
Well Lights
Floodlights
Bollard Lights
Spotlights
Post/Pier Mount Lights
Walkway Lights
Surface Mounted Lights
Recessed Lighting
In-Ground Well Lights
Waterfall Lights
Outdoor Solar Lights
Flood Lights
Hardscape Lighting
Outdoor Landscape Lighting in Coral Gables
Located just a few miles south of Downtown Miami, Coral Gables, Florida is a lively area that attracts visitors from all around the nation. Home to the Miami Seaquarium, Coral Gables has plenty to offer visitors, especially those with an interest in marine life. Coral Gables, FL is also renowned as a great place to live and has even been called one of the best places to reside in the state.
At Anderson Landscaping, we transform your outdoor space with outdoor landscape lighting for Coral Gables, FL and the surrounding areas. With experience creating functional and attractive landscaping designs for the last several decades, we are the number one choice for landscape lighting throughout our community.
Whether you want to add wayfinding lights to your pathway, recessed lighting to improve outdoor security, or spotlights to make your outdoor landscape features shine, we meet your needs and surpass your expectations. Get in touch with our landscape lighting team to learn more about outdoor landscape lighting for your property!