5 Reasons to Install Outdoor Landscape Lighting
Installing outdoor landscape lighting can provide several benefits. Anderson Landscaping provides outdoor landscape lighting in Miami, Coral Gables, Palmetto Bay, Kendall, Key Biscayne, Pinecrest.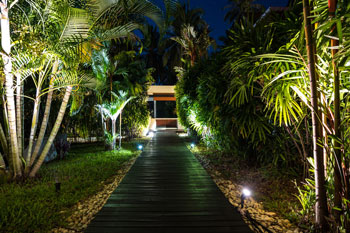 Here are five advantages of having outdoor landscape lighting:
Enhanced Safety and Security: Outdoor landscape lighting helps improve safety and security around your property. Well-lit pathways, steps, and entrances reduce the risk of accidents and make it easier for people to navigate in the dark. Additionally, strategically placed lighting can deter potential intruders by eliminating dark hiding spots and making your property less appealing as a target.
Increased Aesthetic Appeal: Outdoor lighting adds an enchanting ambiance to your landscape, enhancing its visual appeal. By illuminating architectural features, trees, plants, and other focal points, you can create a stunning nighttime view. Well-designed lighting can highlight the unique characteristics of your outdoor space, adding depth, dimension, and drama to the overall aesthetic.
Extended Outdoor Living: With outdoor landscape lighting, you can extend the usability of your outdoor spaces beyond daylight hours. It allows you to enjoy your garden, patio, or deck even after the sun sets. Whether you're hosting a dinner party, relaxing with a book, or simply spending quality time outdoors, proper lighting ensures a comfortable and inviting atmosphere.
Increased Property Value: Outdoor landscape lighting can enhance the value of your property. Well-lit exteriors are highly desirable to potential buyers, as they not only improve curb appeal but also provide practical benefits like safety and security. A thoughtfully designed lighting system can make your property stand out in the real estate market and potentially increase its resale value.
Functional and Practical Use: Outdoor lighting serves practical purposes by illuminating specific areas for various activities. It allows you to navigate your property easily at night, find key entry points, and perform tasks like grilling or gardening with proper visibility. Lighting up outdoor entertainment areas also creates a welcoming ambiance for social gatherings and events.
Please feel free to call us.