Do you have a huge outdoor? Homes these days are not blessed with a big landscape area. So, if you do have this space, you have to utilize it properly. No matter what kind of landscape design you choose, you should make sure that it is properly lit not only because people will be able to see what you have done with such a huge space but also because of safety. In the darkness, people can trip and fall or unwanted intruders can take shelter in your premises. That is why you should invest in good quality outdoor landscape lighting. We, at Anderson Landscaping, can be the right choice for you. We are an established and reliable company which has been in this field for a long time. We can provide you with various kinds of landscaping services, right from design to installation. We are known for our high quality products and extremely efficient and reliable services. So, if you belong to areas such as, Palmetto Bay, Coral Gables, Miami, Kendall, Key Biscayne, or Pinecrest, Then you can opt for us.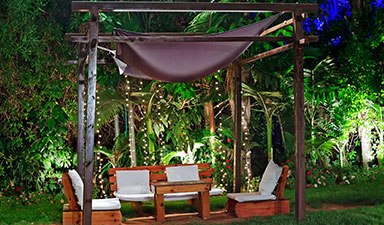 Here, we have put together a few questions to ask a company offering you outdoor landscape lighting services. Take a look.
What kinds of lights do you have?
There are different kinds of lighting options, both in design and technology, that are available in the market nowadays. You have to choose the one that goes with the appeal of the overall architecture and landscape design along with making sure that it is a functional one. People usually prefer LED lights because these are energy efficient as well as affordable.
2. How much would you charge?
Budget plays a crucial role no matter what kind of things that you are purchasing. You must make sure that the price of the lights are suitable for your budget. If required, you should take quotes in advance and compare it with others before choosing.
So, after getting these answers, if you are interested in choosing us, contact us today.