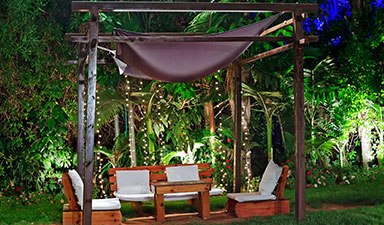 Outdoor landscape lighting is essential for any Kendall, FL landscape. By adding depth and beauty to your outdoor area, landscape lighting enables you to enjoy your outdoor space during any hour of the day. But beauty is not the only benefit of outdoor landscape lighting. Landscape lighting can also act as an additional layer of security for homes.
Whether you are seeking landscape lighting for safety, aesthetics, or both, we are here to ensure that you receive the unparalleled service you deserve.
Contact us today to get a quote on landscape lighting in Kendall, FL or the surrounding areas.
Landscape Lighting in Kendall, Florida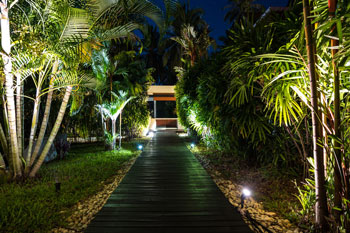 Outdoor landscape lighting is never a bad idea.
Besides adding a wide range of practical benefits to your home, landscape lighting is the cherry on top of your Kendall, FL landscape design.
You might ask yourself, what landscape lighting options are actually available? Here are some of the most popular outdoor landscape lighting options our clients might choose to illuminate their landscape:
Pathway Lighting– Walkway lights are used to illuminate your property so you can find your way at night.
Deck Lighting– Deck lights can be added on nearly any part of your deck such as stairs, rails, or as accents.
Spotlights– Spotlight landscape lighting is used to highlight specific landscape features that you want to draw attention to.
Recessed Lighting– Downlights are non-invasive and highly attractive lighting options that add charm and aesthetics to your outdoor space.
Waterfall Lighting– Just as it sounds, these outdoor landscape light options draw attention to your waterfall or other outdoor water feature.
Outdoor Landscape Lighting in Kendall, FL
Kendall, Florida is a populous and prominent part of the Miami Metropolitan area. Known for its many living options for young families and professionals, Kendall is an ideal place to lay down roots and establish a life. This popular community is also known for its plethora of options in outdoor entertainment such as parks, botanical gardens, zoos, and more!
At Anderson Landscaping, we proudly provide outdoor landscape lighting in Kendall, FL and the surrounding areas. Serving our community for several decades, our landscape lighting specialists work with you and your vision to install functional and attractive lights for your landscape.
Looking for LED lighting to highlight your custom waterfall? Need outdoor landscape lighting to light the way to your front door? Whatever the need, we make it a reality with outdoor landscape lighting that illuminates your home. Contact us today to chat with our team about your landscape lighting needs in Kendall, FL or the surrounding areas.